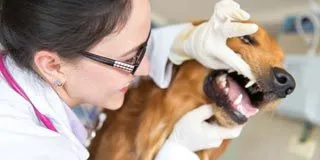 Loving care for your pet's teeth
Maintain the health of your pet's teeth and mouth with general dental exams and teeth cleanings to avoid infections. Dental care from Booneville Veterinary Medical Center can promote a healthy mouth and long life for your cat or dog. We offer everything from basic teeth cleaning to oral surgery for more severe problems. Treatments are also offered to manage any inflammatory conditions of the mouth.
You and your pet will receive friendly service from an experienced staff who truly care about the health and wellness of your beloved pet. Emergency care is available after hours if you find that your pet experienced problems after a procedure.
Animal dentistry treatments and procedures
Dental prophylaxis treatment
Dental cleaning and polishing
Dental extractions are performed when required to treat advanced dental conditions
Oral surgery
Topical oral antimicrobial treatments
Treatment to manage autoimmune inflammatory conditions of teeth and gums
All dental procedures are done as outpatient procedures